Black Boxes
Why is the area of a circle given by πr2?
I'm not asking why it's in this specific form. Rather, I want to know why this is true. Can you tell me? Can you convince me?
Let's take something a bit more concrete. I bet you use a lamp every day to light up something in your home. Can you explain how the lamp works? What makes the bulb shine? How does the electricity work to create this light?
These are all questions that have answers.
You know they have answers. I'm not asking technical questions here. Just a simple explanation for how the lamp works would please me. You don't have to start talking about the various particles that make up the lamp, or how light behaves as a wave and interacts with the environment such that we are able to see.
Still nothing?
I'm not surprised. To be honest, I can't even give answers to some of these simple questions.
You might think that we should be able to answer these types of questions. After all, we do use these things every single day. We should know how they work, right? And yet, most of us don't know the inner workings of these machines and processes. We just know that they work, and that's enough for us.
There's a technical term for this in science (computer science in particular): a black box. This expression refers to a process or a device which we can give an input and get an output, but the inside of the black box remains unknown. The only feedback we get is the output.
This is not something we want in science. We would much rather have a process in which we knew each step along the way and how it went from step to step. However, in the absence of anything else, a black box that gives results is still useful. We aren't going to throw away something that works just because we don't know much about it! Black boxes signal that we have more to learn about (starting with the inside of the black box).
We all carry around our own black boxes. These are processes that we know happen around us, yet we don't have a clue what the inner workings are like. From our cars to our refrigerators to the internet, most of us don't actually have any idea how these things work. We might be able to jumble along together an ad-hoc explanation, but these tend to be wrong and not thought out at all.
When reflecting on this though, we often don't care that we carry around these black boxes. It's unreasonable to expect us to be knowledgeable about everything we use, so who cares if we don't know how our car works? We know how to drive it, and that's all that matters.
To a certain degree, that's true. Often, we are able to get by with only the knowledge of how to use our black box. We don't need to know how it works. As long as we steer the car and follow the signs on the road, we trust that the car will do its thing and not malfunction.
The issue is more about our perception of these black boxes. How many black boxes do you think you have? Chances are, the number you gave is too small. Way too small. The simple truth is that we use black boxes throughout all of our lives, often without realizing it. This is of particular interest when we consider education.
Black boxes everywhere
So we are in agreement that people do use black boxes in their lives. As such, it shouldn't be a surprise that students use black boxes in their education. These are of particular use in subjects such as science and mathematics, where one can get many answers without knowing the underlying concepts. What seems like learning is just a focus on the outputs.
The danger with black boxes in education is that they are seductive. They represent a way to gather a lot of "surface-level" knowledge without digging deep to think about the concepts themselves. This means that if a student is having difficulty, it's much easier to learn how to use a black box than to go through the longer process of absorbing the content.
I see this quite often in my field of physics. Physics uses a lot of mathematics, but it's not as concerned about the mathematical concepts. This means that a lot of the tools of mathematics are transported to physics, and can be used without knowing the theory beneath.
Physicists encounter a lot of differential equations. However, professors teaching physics don't often care about how one solves the equations. Instead, there are the staple differential equations, such as the simple harmonic oscillator, which every physics student knows and memorizes before they are done their education. Can they all explain the process of finding this solution (apart from telling someone to "plug it in and see")? Probably not.
Here's another example, this one not only about physics. If you take the function xn, what is the derivative? Any student who has taken a first course in calculus will tell me that it's nxn-1. This is correct. But can the student then go on to explain why this is true? Perhaps the student who is in their first calculus class can (because they are in the midst of working with the definition), but I bet that many others who have taken many calculus courses and have long-memorized the power rule cannot. Instead, they might say something like, "That's just how it is."
Why does this happen? Why do we go from deep, underlying knowledge to trading it in for a black box that produces the right answer each time? The reason, I suspect, is because it's much easier to remember the power rule than working it out from first principles each time. In fact, no one does that, because it's a waste of time. Once we know the rules of the game, there's no need to go back and rederive everything.
The issue occurs when we go for so long without looking at the first principles argument and only remember the rules themselves. This is what we want to avoid. It's at this point that our knowledge goes from deep understanding to being a black box. We then cease to be knowledgeable about the subject. Instead, we become proficient at using the tools from the subject.
There's a difference here, and it's one that isn't highlighted enough in school. Knowing how to use the tools of a subject to solve problems is a skill, but it's not the same as understanding how those tools were developed. This is critical, because it informs how we make decisions about what to teach students. Do we want to focus on giving them skills to solve problems, or do we want to emphasize the concepts beneath? I don't think we should focus only on one, but we are deluding ourselves if we think that schools (particularly early on) are emphasizing the importance of deep understanding. From my perspective, the priority is skill first, deeper understanding second. This aligns precisely with the use of a black box.
Students aren't incentivized to dig deeper and develop more of an understanding of their subject. They're incentivized to solve problems quickly and know how to do a lot of things. The byproduct of this is that black boxes are used to keep up.
Again, I'm not saying that the black boxes aren't useful. They are, but if we want to do more than pay lip-service to the idea that students should have a deep understanding of their subject, we need to highlight this tendency to default to black boxes. On the other hand, if our priority is to only develop the skills of students, then fine, we can keep on using black boxes. We just can't have it both ways.
What are your black boxes?
I hope I've convinced you that black boxes are everywhere. Now, I want you to think of your own life. What are your black boxes? We all have them, and my objective here is to get you to think about what they are.
At some point, we all hit a black box where we just don't know how something works. This isn't a bad thing. In fact, it's a good exercise to see how deep you can go. Chances are, you won't go far with most things. You will only be able to go deeper with the subjects you are passionate about. That's okay and normal.
Now, think about your black boxes. Can you push past them and get a better understanding of the underlying mechanics? Pick a few that you want to get past, and start learning about them. Read a book on the subject, or ask a friend who is knowledgeable. I warn you that this is difficult, painful work. Understanding something isn't a trivial task, so make sure you really want to learn.
You will know that you aren't using a black box anymore when you can explain the idea or concept to someone who has no idea how it works. This is what you should strive for. If you can explain the concept (and not just recite it from a book), there's a good chance you aren't using a black box anymore.
---
This is my goal for education, both for myself and for the students I work with. My motto is "mathematics and science without black boxes". More than anything, I want to help students understand what they are learning, not just how to use the tools to solve problems. The pendulum in education has swung too far in the direction of building skills without knowing the underlying concepts. My aim is to help nudge it back in the other direction.
There's nothing wrong with building problem-solving skills. But we miss out on a large portion of the value of education when we only look to develop our skills. If you ask mathematicians, they will tell you some variant of "mathematics is art". Many won't tell you that they do mathematics to only solve problems in the world. Instead, it will be about gaining a deeper understanding. In essence, they are trying to push through their own black boxes. Why? Because they value knowledge in addition to solving problems.
Mathematics and science doesn't have to only be about being skilled with tools. It's an opportunity to inspect one's black boxes, and work at opening each one up to peer inside.
The Priority of Education
Is not learning.
Here's a question. What's the best outcome that can happen when you take a course?
The most common answer (and one I would give myself) is to get 100%. To do everything perfectly, never making a mistake. Most students agree that this would be the ultimate goal. How could anything be better than getting a perfect grade?
When you look back on a course, what do you think about? Chances are, the final grade you got is a good indicator of how you thought about the course. It's the only tangible metric left, so we base our reflections on that one number. The number is supposed to encapsulate our knowledge anyway, so where's the harm in using the grade as a proxy for how we felt about the course?
The problem is that you never even mentioned that you took a course in order to learn.
It's worth thinking about this, because we go through tons and tons of classes in school worrying only about our grades. At the end of the day, who cares if you think you learned a lot in a course? If your final grade doesn't reflect this, no one else will try and dig deeper to say, "Yes, you might not have finished with a good grade, but you've learned so much and grown throughout the course." As such, the incentive is to turn away from learning, and focus on getting good grades.
Good grades unlock new opportunities. Saying you learned a lot in a course but only getting an average grade doesn't convince anyone. Therefore, it's natural that we learn to focus on getting good grades instead of learning in general. If learning happens during a course, that's great, but it isn't something to focus on.
Think about how you feel once you've written the final exam for your course. Do you think, "How can I fit these new concepts and principles into the way I think?" I'd predict your thoughts go along the lines of, "I'm finally done with this course! I just hope I did enough to get a good grade." These two attitudes illustrate the difference between going to school to learn and going to school to get good grades.
It may be surprising, but you can get good grades in school without learning. It's possible. You don't even have to turn into a memorization machine. You just have to know what to focus on at the right time, and be a good performer on tests.
In a sense, we do learn something in school. We learn that society rewards those with good grades, which means we have a choice. We can either focus only on getting good grades to impress others, or we can dig deeper to do the difficult work of learning. That means being able to explain topics to others. It means being able to think through a problem without just wondering what special fact or result is needed to resolve it. Learning is a different kind of skill, and it's one that is too often in short supply at school.
I'm not sitting on my high-horse here. I feel the pressure to get good grades just as much as you, the reader. When I'm overwhelmed by the amount of work to be done, I retreat to my defaults: get good grades, don't worry about learning itself. I know this is the wrong mentality, but I also know that a lot of my academic future relies on getting good grades.
My advice is simply this. As much as we spend time focusing on getting good grades, you need to take time to think about if you're also learning. This is more difficult than it seems when you're getting good grades. That's because you will be able to answer many different problems that involve the concepts you looked at in class. However, like I wrote above, a key indicator of learning material is being able to explain it on your own. If you don't have your notes, can you give an impromptu explanation to a friend? How about someone who knows nothing about the subject? If you can create an explanation to that sort of person, then you're doing alright in terms of learning.
I think many people will be surprised to find that they can't do this. If that's you, don't worry! It's an indication that you have more to learn. Take it as an opportunity to go back and try to soak in the information from your class, but also remember to explain it to others.
---
The priority of our education system isn't aligned with learning. It's aligned with getting good grades so that you can stand out. Therefore, if you want to be more than just the student who can get 100% in your class, then it's up to you to focus on the more intangible aspects of learning. No one will look out for you, or care that you're doing "more" work. However, the difference will show up in the long run, because you will understand the topics deeply versus those who only prepared enough to ace the final exam.
A Splash of Colour
When giving a presentation, it's difficult to present ideas in science or mathematics without the use of equations. It's possible, but unless you're exploring a geometry problem, you're probably out of luck. If you want to get a message across to your audience that is more substantive than a bunch of emphatic adjectives about science, you need to use equations.
Unfortunately, equations in presentations don't have a habit of looking (How shall we say it?) nice. Instead, they are either crammed in beside plots of data or formatted in a way that makes them difficult for even scientists to decode. It sometimes makes me wonder if scientists spend all of their time on research and forget that it's important to make things presentable for others.
It doesn't have to be this way. In particular, I've learned that we can make equations much more readable when giving a presentation. It's a small change that makes a big difference, allowing your audience to follow the equations without getting lost. (And let's be honest. Getting lost happens a lot when listening to presentations!)
Let's pretend you have a slide that looks like this.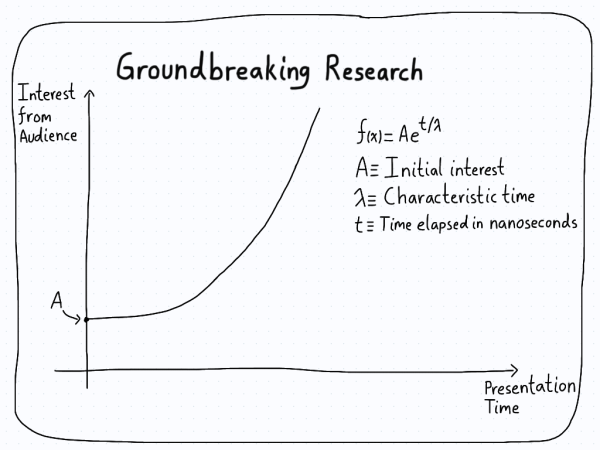 There's nothing particularly wrong with the slide. However, everything is neutral, which means that no elements jump out at the audience. The equation is there with all of the variables defined, but everything has the same emphasis. This could be made a lot better.
First, if you're anything like me, you enjoy a classic colour pallet of black and white. You feel at home with the pre-colour era of media, and find there's nothing wrong with black and white newspapers. If this resonates with you, don't worry. I feel the same way. However, this isn't the same century, and we've been able to add actual colour to our presentations. As such, we're going to do something that might seem absurd, childish, or even (gasp!) unprofessional.
We're going to colour the equations.
You heard me right. Even worse, I'm not talking about changing the colour of the equation from black to blue. I'm talking about changing the colour of each individual variable. If we take the slide from above and put it through a colour transformation, we might get something like this.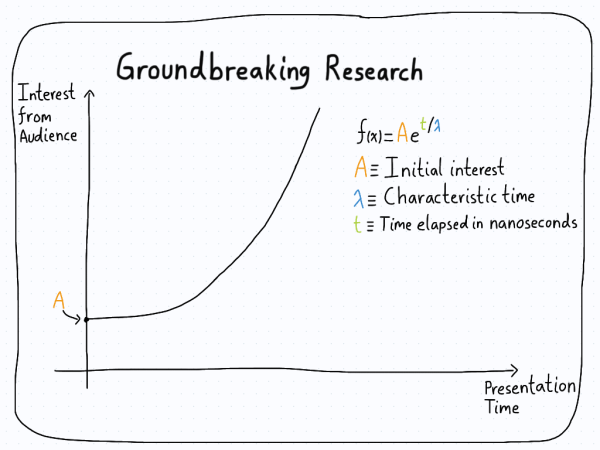 The advantage of this slide is clear. Instead of a neutral equation with the variables explained, the additional bit of colour gives the audience a connection between the variable and it's definition. The connection is clearer, with the colours guiding the eye without needing to read.
"But wait," you say. "I don't want to turn my slides into a kaleidoscope of colour!"
I share your concern. Thankfully, we have this wonderful area of art called colour theory which deals with exactly this problem. By using an appropriate colour palette (such as the one from
), you can make your slides look just as good as they did in black and white. Plus, you get the additional benefit that the audience can locate objects of interest on your slides with less difficulty. Which, in the end, is what we want.
Presentations are an important part of getting your groundbreaking research into the public eye. Unfortunately, a lot of presentations include slides with equations that can seem impenetrable. By adding colour, not only do you ease the separation of an equation into its components, but you also get the nice bonus of making your slides more friendly.
What more could you want?
Outside the Curriculum
Do you feel like you're not getting enough out of what you do in class? Does mathematics feel boring, just a bunch of rules that you follow without more or less knowing why?
I don't blame you. This isn't necessarily your teacher's fault either. Instead, it's a mentality that we've adopted with respect to your education. Take a bunch of mathematical concepts that are easy to test, and make students like you do lots of problems. If you can answer the problems correctly, you get good grades and move on. If not, we'll likely still let you move on, even though you have no business studying more things when you haven't mastered these concepts first.
It's a bad situation on both sides. If you're good in class, then you can get bored from the repetition of ideas. On the other hand, if you struggle, you're spending most of the time in class scratching your head and wondering how in the world these symbols all work.
There needs to be a better way to do this.
I don't have all the answers. I realize that I can't start implementing radical ideas in the classroom (mainly because I'm only a tutor). But, I know that the world of mathematics is vast and wonderful, and in school you only get to see a tiny sliver of it. Perhaps I'm being too cynical, but I would argue that what you see isn't even part of the "greatest hits". There are some good parts in the curriculum, but there are parts that leave me wondering why someone would ever want to teach students this as a requirement.
My point is that you deserve better. I think it's fine to say that you dislike (or even hate) a certain subject. However, you have to at least dive into the subject a little bit. In school, I don't think you learn enough about mathematics in order to give it an honest rating. That's not your fault. It's the fault of an old educational system that needs to be updated.
Let's be realistic here. Changing the way an institution functions within the next few years you're in school isn't going to happen. The change will occur over many years, as schools and governments get more pressure to change how we do things.
So what can you do now?
The number one thing you can do is to explore the wide space of mathematics. Instead of only thinking about mathematics inside the context of your classes, learn about more topics online. Dive into some articles on a subject that seems interesting. Watch a video online (which there are many great introductory ones). Ask your teacher for topics. Do something is my point. The only way to learn more is to go out and find more resources.
The most surprising thing you will find is that mathematics does not look like the kind of stuff you do at school! This will be a shock, I know. Right now, mathematics seems like its a mixture of formulas and finding the right numbers to plug into these formulas. But within the wider scope of mathematics, this is not the focus at all. The world of mathematics is filled with a lot more creativity than you would expect from the work you do in school.
I want to be clear here. The skills you develop in your mathematics classes are important. However, they are just that: skills. The wider world of mathematics is concerned with how you can use these tools to find out new truths about various objects. Sadly, this isn't something you often get to see in your mathematics classes. This is why I'm telling you to explore the world of mathematics outside of your classroom. Only then will you get a flavour of what mathematics is all about.
If you do that, then you can form your opinions on mathematics. But I think that once you see how much more there is to mathematics than what you see in school, you will find that mathematics isn't boring at all. Only certain topics aren't as interesting. And that's alright. Just don't give up on mathematics because of a few topics that aren't as engaging as the others.
The lesson I want you to draw from this is that mathematics has something for everyone. Schools don't cater to this fact, but it's true. Therefore, don't give up on mathematics. Go out and explore! I guarantee you that there will be something you find interesting.